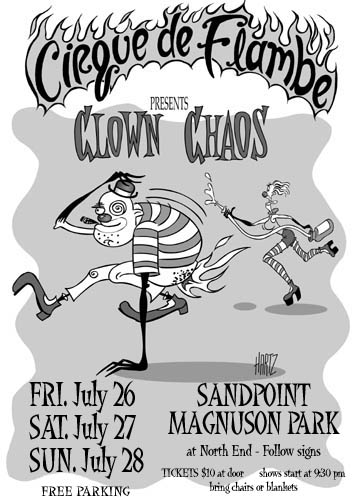 "When clowns run the show, you know there will be chaos." - Winston Churchill flyer from 2002 show run
Cirque de Flambé Presents: CLOWN CHAOS
In the business world, labor unrest, hard feelings and pushy bosses can lead to a strike. In the Circus world, it's a reason to do a show.
Since we are unable to bring order to our clowns, Cirque de Flambé, America's only flaming one-ring outdoor circus, was forced to create a new show, "Clown Chaos".
This wild show presents several brand new acts never seen before on any stage. It also presents some of the Cirque de Flambé's most popular acts, which have been totally revamped for this new format.
This is the show that was so hot, it was banned in Ballard! As a local resident stated; "This show is too long (75 minutes), too loud (crowd applause), and the content of the show is wrong, wrong, wrong! (clowns fighting with fire)" The show kicked off for a three day run on Friday, August 7, 2003, with additional shows on Saturday and Sunday, August 8th & 9th, 2002.
The circus show is presented outdoors in festival style. Audience members are encouraged to dress warm and bring their own blanket and chair, or if they choose, their own couch.

The Cast:
Creative and Artistic Director:
Maque da Vis'
Stage Manager:
Kay McInnis
Primary Flame Effects Operator:
Innis Philips
Fire Safety Director:
Daniel Walsh
Musical Director & Composer:
Mr. Fred Hawkinson
Graphic Artist:
David Hartz
Humor Czar:
Simon Neale
Electrician:
David Roman
Cast of Players:
Brian Foley
Candace Hegeman
Chelsea Teller
Cheryl Moser
David Roman
David Stern
John Spinosa
Jon Taylor
Kay McInnis
Maque Da Vis'
Michael Graves
Michelle Moore
Myron Sizer
Nathan Arnold
Norma Baum
Simon Neale
Tim Furst

The Fremont Philharmonic Band:
Sasha Malinsky - Percussion
Fred Hawkinson - Trombone
Jeremy Reinhold - baritone
Pam MacRae - Clarinet
Stuart Zobel - Guitar
John Cornicello - Keyboards
Bill - Trumpet
salamandir - Tuba
Special thanks to our sponsors and supporters
Beth Farnham, Fremont Arts Council and our wonderful volunteers!
404 Not Found
---
nginx/1.22.1